The Lock and Key: Creating a Safe Space for Business Owners to Connect and Grow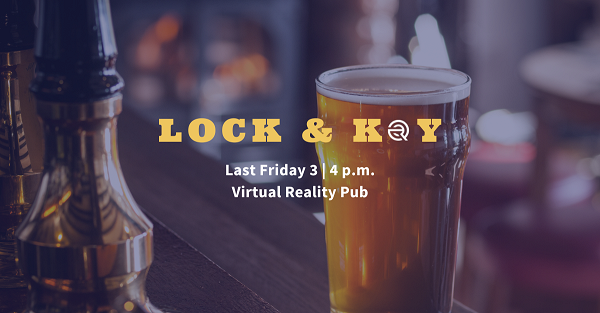 If you're like us, the best business conversations have been when you have been able to relax slightly; the best advice when you least expect it; and the best clients start from an informal conversation.
Thanks to the COVID-19 pandemic, and the subsequent increasing use of technology, we are now connecting with a whole host of new connections from all over the UK. Staying connected can be a real challenge for your time management, not to mention your wallet with the spirally cost of fuel.
That's where the Lock and Key comes in.
The Lock and Key is an online virtual pub designed specifically for business owners. It is a safe space where they can share their concerns and worries in a non-judgemental environment. We believe that by creating a space where business owners can connect and support each other, we can inspire conversation and diversity of thought.
At the Lock and Key, we celebrate opportunities and challenges alike. We believe that every challenge presents an opportunity to grow and learn. By embracing both the good and the bad, we can help drive decision making and help everyone achieve a sense of ownership in their businesses.
So how does the Lock and Key work?
It's simple. Business owners can sign up to one of our free online communities on LinkedIn or Twitter. From there they can join the virtual pub on the last Friday of every month between 3pm and 4pm.
Once inside, they can connect with other business owners and participate in discussions on a wide range of topics. We encourage everyone to share their experiences and insights, ask questions, and offer advice.
One of the unique features of the Lock and Key is the diversity of thought that we encourage. We believe that everyone has something valuable to contribute, regardless of their industry or background. By bringing together a wide range of perspectives, we can all learn from each other and become better business owners as a result.
Of course, we understand that not everyone is comfortable sharing their thoughts and feelings in a public forum. That's why we also offer private chat rooms and one-on-one conversations. We want everyone to feel comfortable and supported at the Lock and Key, no matter what their needs may be.
At the Lock and Key, we believe that business owners are the backbone of our economy. By creating a space where they can connect and support each other, we hope to help them weather the storms and emerge stronger than ever before. We invite you to join us and become a part of this growing community of business owners who are committed to helping each other succeed.