Equilibrium Risk Awarded Coveted Innovation Alley Spot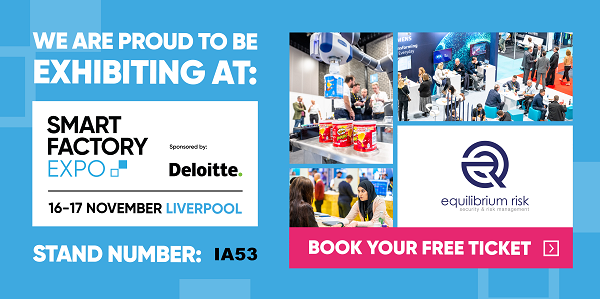 We are overjoyed to announce that we have been awarded a much-coveted spot on Innovation Alley at the Smart Factory Expo on the 16th and 17th November in Liverpool.
Now in its 7th year, the Smart Factory Expo brings together all the technologies from across the digital manufacturing revolution under one roof. The exhibition features 6 distinct Visitor Zones anchored to the Solutions Theatre that is hosting free-to-attend presentations delivered by manufacturing and technology experts.
The 6 zones include the Innovation Alley that is a corridor dedicated to entrepreneurs and start-ups to showcase all the new and developing technologies that are changing the landscape of manufacturing.
Located at the very heart of the Smart Factory Expo, we are delighted to have been awarded a spot in this much-coveted location to launch our new security management software.
In the final development stage before a Beta version is launched, our new security management software will revolutionise the management of security risks for manufacturers. Moving from a reactive to a proactive posture, the management software will allow a manufacturer to predict, respond and adapt to security risks in a more efficient way, saving time and money and delivering real peace of mind.
Luke Appleby, Director of Equilibrium Risk, said, "We are ecstatic to be exhibiting along Innovation Alley. It is a massive occasion for us to showcase this new bit of technology that we have been working on recently and are thankful to Innovate UK for the opportunity."
If you would like to come along, book your free place here.